---
---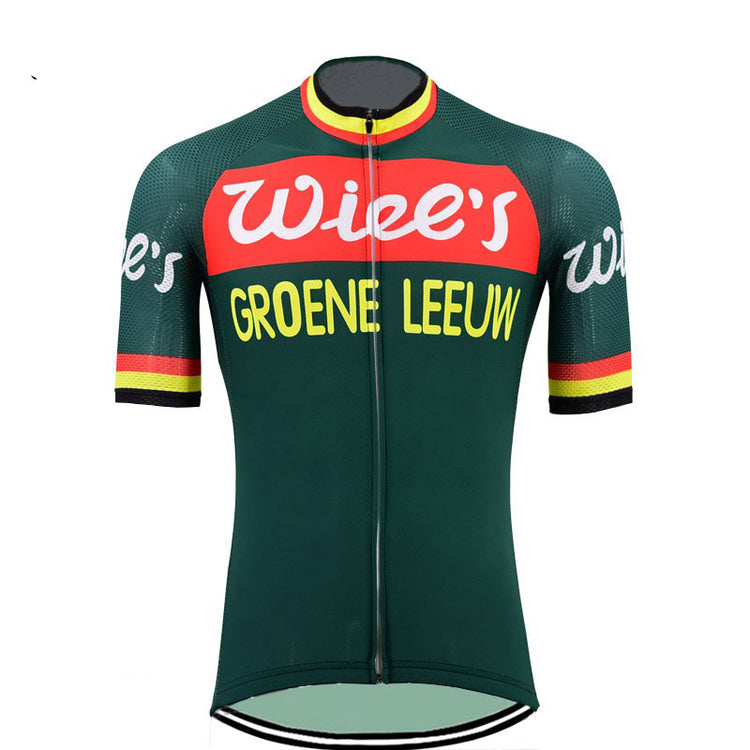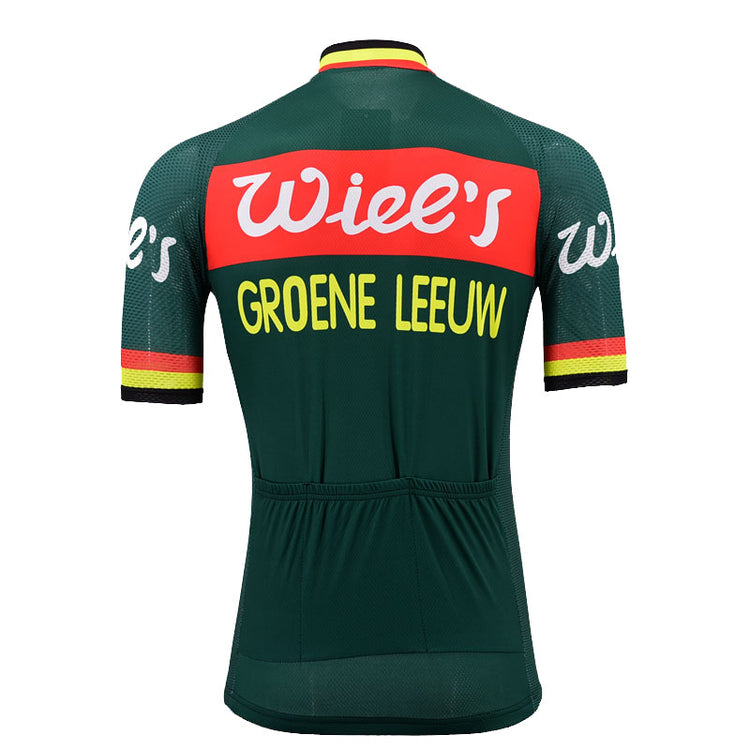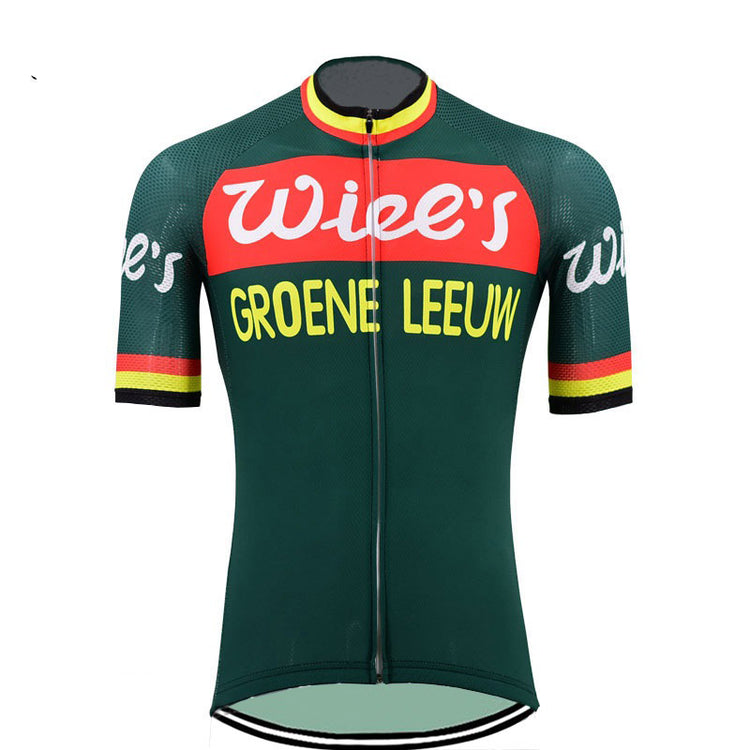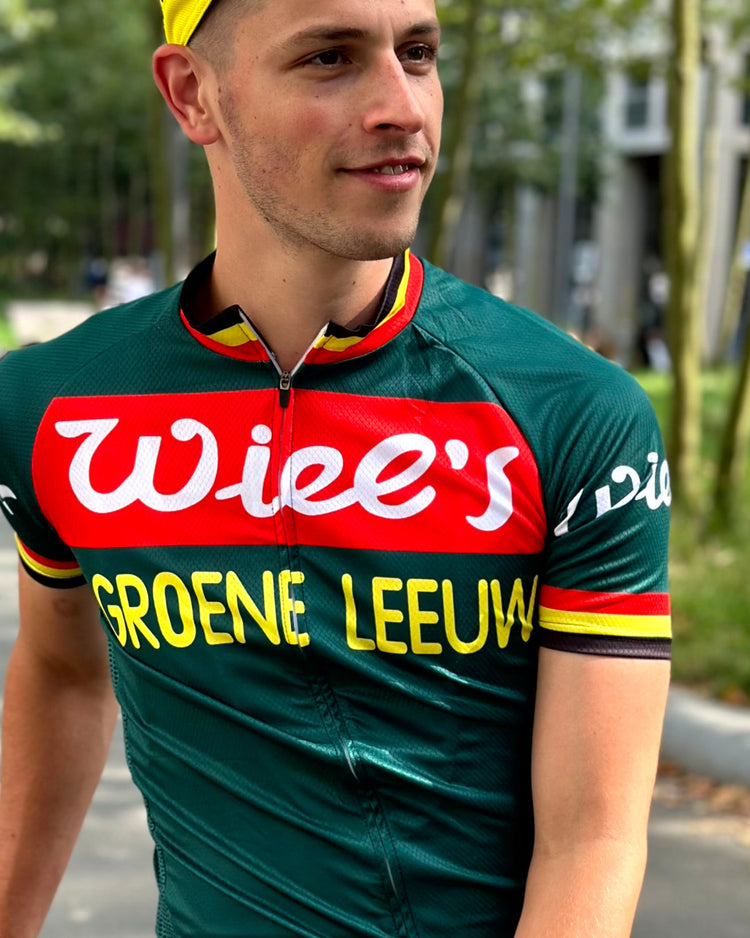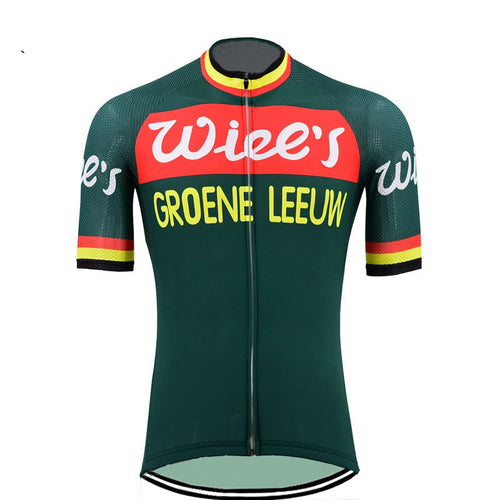 Retro Cycling Jersey Wiel's Groene Leeuw - Red/Green
Order this beautiful replica cycling jersey from Wiel's Groene Leeuw now for an unbeatable price. This comfortable cycling jersey is a replica of the shirt of the Belgian professional cycling team Wiel's Groene Leeuw from the period 1962-1965.
Particularly beautiful replica of the historic cycling jersey of Wiel's Groene Leeuw. This Belgian cycling team was founded in 1945 by the Belgian bicycle manufacturer Groene Leeuw. In 1960, the Belgian beer brewer Wielemans-Ceuppens from Brussels became a sponsor and from 1962-1965 the team was called Wiels' Groene Leeuw. From this period the riders wore this beautiful cycling jersey around their shoulders. Groene Leeuw is a household name in cycling and a real Belgian cycling team. Belgian sponsors, Belgian racing bikes and most of the riders came from Belgium. The team Wiel's Groene Leeuw won in the period 1962 -1965 the Walloon Arrow, Ghent-Wevelgem, the Four Days of Dunkirk, Kuurne-Brussels-Kuurne and the Tour of Picardy, among others. Well-known riders include Willy Van Driessche, Gustaal and Gilbert DeSmet, Jean-Baptiste Claes, Roger De Clercq, Dieter Puschel, Benomi Beheyt and Frans Meert.
Gustaaf Desmet - in the Wiel's Groene Leeuw cycling jersey
Start team Wiel's Groene Leeuw Tour de France 1964
Wiel's Groene Leeuw - Gustaaf DeSmet - Benomi Beheyt - Gilbert DeSmet - Jean-Baptiste Claes
Attention: It's a bit smaller. When in doubt between two sizes, choose the largest size. See size chart for dimensions.