---
---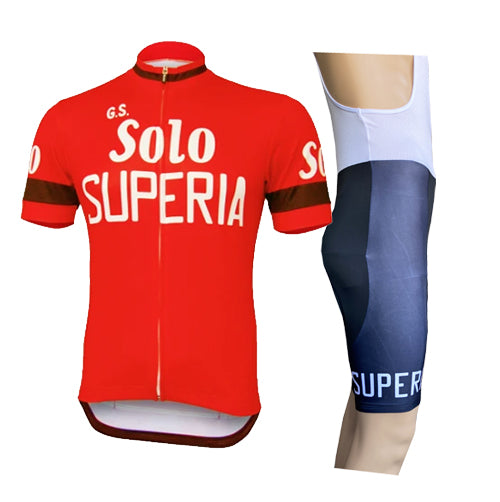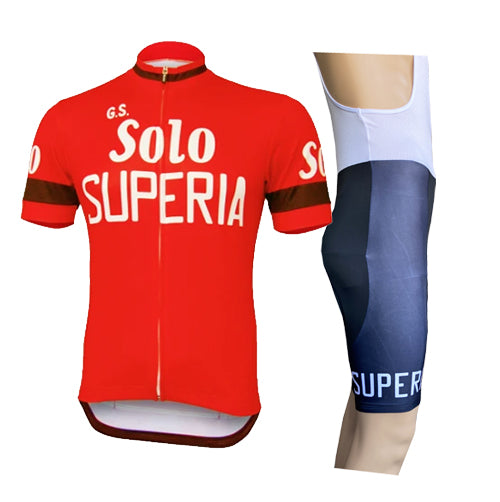 Retro cycling outfit Solo Superia - Red/Black
Order now this beautiful replica cycling outfit from Solo-Superia for an unbeatable price. This comfortable cycling outfit is a replica of the outfit of the Belgian professional cycling team Solo from the year 1965.
Solo was originally a Belgian cycling team which was active in the period 1961-1966. The most important team leader in this period was Robert Naeye. The team has known many famous Belgian riders including Rik van Looy, Rik van steenbergen and the still young Eddy Merckx who started his first professional year with this team. Merckx rode for Solo in 1965 but after a year he decided to switch to the Peugeot team. Van Steenbergen rode all 6 years for Solo. Between 1963 and 1966, the team was the most successful. However, Jos Wouters won the most races in the first years, including the Paris-Tours. Van Looy won the Paris-Roubaix in 1965.
Eddy Merckx - Solo Superia
Please note! Sizes are slightly smaller. When in doubt between two sizes, it is best to choose the bigger size. See size chart for measurements.