---
---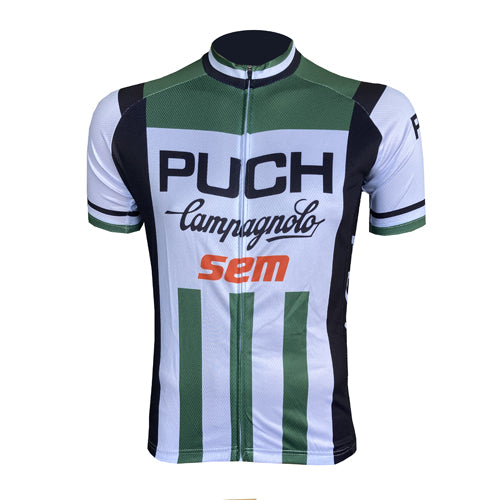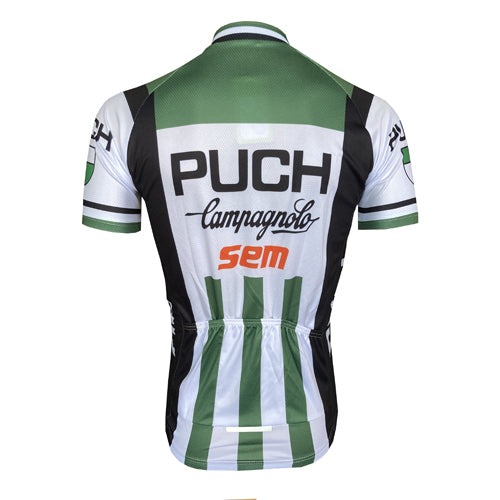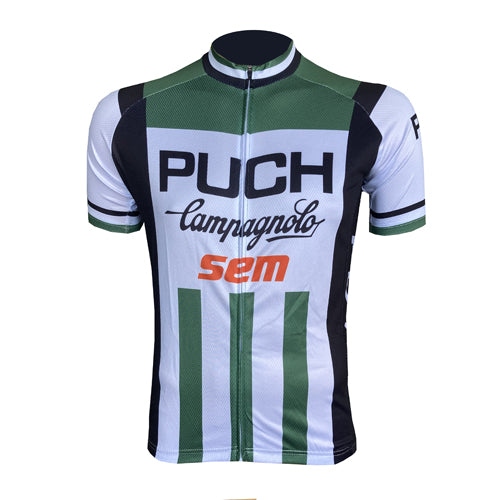 Retro cycling jersey Puch Campagnolo Sem
Puch was an Austrian manufacturer of cars, motorbikes, scooters and, of course, bicycles. Puch was founded in 1889 and almost a hundred years later (in 1987) it was bought by the Italian Piaggio.
In 1980, Puch entered the world of cycling and the French cycling team Puch Campagnola Sem was founded. The leadership came in the hands of the famous Jean de Gribaldy, Rudy Altig and Serge De Vries. The team had 11 riders from four different countries. The experienced Portuguese rider Joaquim Agostinho and his compatriot Marco Chagas Martins, five French riders; Chaly Berard, Patrick Busolini, Alain de Carvalho, Jacques Michad and Jean-Raymond Tosoni. The German contribution came from Dietrich (Didi) Thurau and Hans-Peter Jakst. From Scandinavia came the Norwegian Jostein Wilmann.
In 1981 the team was named Puch-Wolber-Campagnola and from 1982 to 1983 Wolder-Spidel. The last year, in 1984, the cycling team rode under the name Système U.
Puch Campagnolo Sem wore several green striped cycling jerseys.
Please note! Italian sizing - it is slightly smaller. When in doubt between two sizes, it is best to choose the bigger size. See size chart for measurements.